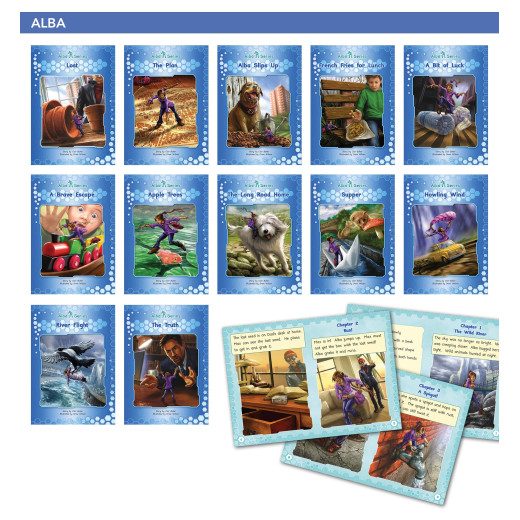 Phonic Books - Alba Series
Product Code

ALBA01US

Availability

In Stock
An exciting, fresh start for older students that builds up their reading skills from CVC level. This highly structured, cumulative series includes 12 books which cover the essential phonic foundations that a catch-up reader will need. With a strong, resourceful heroine, this series is very popular with older girls. It follows the same phonic progression as Totem, and can be used in parallel.
Includes 12 decodable books starting at CVC & CVCC level.
Book 1: cvc, cvcc
Book 2: cvc, cvcc, ccvc
Book 3: cvc, cvcc, ccvc, ccvcc
Book 4: sh, ch, th
Book 5: ck, ng, qu, wh
Book 6: 'ae': ai, ay, a-e, a
Book 7: 'ee': ee, ea, e, y, ey
Book 8: 'oe': o-e, ow, oa, o
Book 9: 'er': er, ir, ur
Book 10: 'ow': ow, ou
Book 11: 'ie': igh, i-e, y, i
Book 12: 'oo': oo, ew, u-e, u
Interest age 8-14. Reading level: grade 1. Written by Clair Baker & illustrated by Drew Wilson.